WE RESPOND 24/7 FOR FAST WATER REMOVAL FROM YOUR PROPERTY.
Fast water removal and proper drying is essential to minimize damage from water. The science of drying is no longer guesswork. Measurements are taken to determine the amount of grains of moisture in the air and the exact equipment needed to eliminate that moisture. The use of extraction equipment, dehumidifiers, air movers, and now, Thermal Energy Systems (TES), and the proper amount and placement of this equipment is what sets the amateur and the certified professionally apart. Proper monitoring and inspection of the effectiveness of the drying is also of great importance in proper drying.
If your home has water damage, we can help. Contact your water damage specialists at Exquisite Carpet Cleaning today.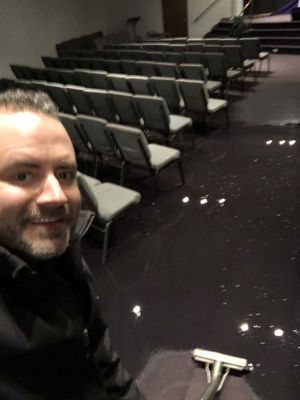 CONVENTIONAL SYSTEM
1. Specialized equipment to meet the needs of customers ranging from residential to industrial facilities.
2. Powerful truck-mounted water extraction units provide fast water removal.
3. Sanitizing agents, germicidal, and anti-microbial treatments to disinfect and provide protection against bacteria, fungi, mildew, and other harmful microorganisms.
4. Highly calibrated analyzers and meters to accurately evaluate moisture levels.
5. 100s of dehumidifiers and air-movers locally warehoused.
6. 24-hour emergency service.
7. Local crews capable of emergency response within one hour.
8. Experience with all major insurance companies.
9. IICRC certified technicians.
10. Over 17 years of experience.